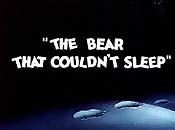 The Bear That Couldn't Sleep
is a 1939
Barney Bear
cartoon.
As autumn draws to a close, Barney Bear prepares for his long winter's sleep, but his surroundings keep him up until spring.
Barney's settling in for the winter. But water leaks, a loose shutter, a noisy fire, a teakettle left on, and some stray embers all get in the way, and Barney also locks himself out. And that's just the beginning.
The first appearance of Barney Bear.
Ad blocker interference detected!
Wikia is a free-to-use site that makes money from advertising. We have a modified experience for viewers using ad blockers

Wikia is not accessible if you've made further modifications. Remove the custom ad blocker rule(s) and the page will load as expected.