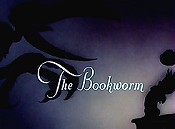 The Bookworm
is a 1939 MGM cartoon directed by Hugh Harman and Friz Freleng.
Three witches need a worm to complete their potion; they dispatch a raven to catch one, and he goes after a bookworm. He chases the worm into the horror section, where the monsters attack but soon, Paul Revere rides Black Beauty to the rescue, along with the Police Gazette, and other assorted war heroes; eventually, the Boy Scouts build a match-stick bridge, leading the worm to safety.
Ad blocker interference detected!
Wikia is a free-to-use site that makes money from advertising. We have a modified experience for viewers using ad blockers

Wikia is not accessible if you've made further modifications. Remove the custom ad blocker rule(s) and the page will load as expected.